IPL 2022 RR vs DC – Rajasthan Royals vs Delhi Capitals
IPL 2022 RR vs DC – Once again the early departure and huge dependency on the butler put a low score on the board which taught a lesson to team RR
When the openers didn't make a big mark. Butler fired in his first four innings but didn't continue his good form. The last three, including today's match, didn't impact. Sakariya discomforted the butler with his length and took his wicket. Aswin entered at number 3 during the powerplay and utilized it properly.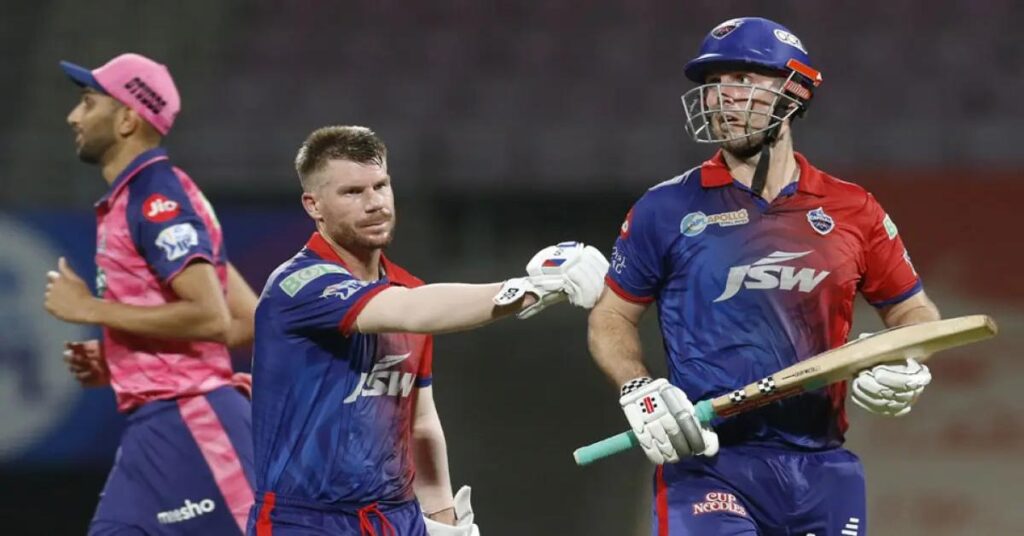 The pinch hitter does the job well. Padikkal joined hands with Aswin and moved the scoreboard forward. Aswin 50(38) achieved his maiden fifty in IPL which took 70 innings. Padikkal 48(30) took to a decent score of 160/6 at 20 overs.
Without Prithvi shaw, Delhi fighting to find a good opening pair. Yet Warner and Marsh made 144 runs for the second wicket. Impactful innings from Marsh 89(62) including 7 sixes.
Whereas at the other side Warner 52(41) completed another fifty in the season. However, a little cameo from Pant 13(4) helped Delhi win the match by 8 wickets. Chahal became expensive 4 overs 43 runs and took 1 wicket.
Check out our latest IPL 2022 Match review Articles:
IPL 2022 MI Vs KKR The Knight Riders Are Alive With A 52-Run Victory
IPL 2022 RR Vs PBKS: Rajasthan Royals Beat Punjab Kings By 6 Wickets
IPL 2022 MI Vs GT: Mumbai Indians Beats Gujarat Titans By 5 Runs In Sams' Last Over
IPL 2022 DC Vs SRH Highlights: Warner-Powell Shines In Delhi's 21 Run Win
MS Dhoni Returns As CSK Captain After Ravindra Jadeja Resigns After 8 Matches
IPL 2022 RCB Vs SRH Highlights: SRH Race To 9 Wicket Win After RCB Collapse To 68 All Out
IPL 2022 DC Vs RR Highlights: Rajasthan Wins By 15 Runs
IPL 2022 CSK vs MI Highlights: MSD's Late Flourish Helped CSK Defeat MI By 3 Wickets
IPL 2022, PBKS Vs SRH Highlights: Hyderabad Win The Game By 7 Wickets
IPL 2022, SRH Vs KKR Highlights: Tripathi, Markram Power Hyderabad To 7-Wicket Win Against Kolkata
Review IPL 2022 RR Vs GT: Gujarat Titans Beat The Rajasthan Royals By 37 Runs
Review: CSK Vs SRH, IPL 2022 Highlights: SRH Cruise To 8 Wicket Win, CSK Sink To 4th Consecutive Defeat
Review: IPL 2022, KKR vs MI – SKY Returns With a Bang But Cummins Storm Blew Away Mumbai
Review: IPL 2022, RR Vs RCB Highlights: Karthik, Shahbaz Lead RCB To 4 Wicket Win
Review: SRH Vs LSG IPL 2022 – Sunrisers Hyderabad Vs Lucknow Super Giants (LSG Won By 12 Runs)
Review: RR Vs MI IPL 2022 – Rajasthan Royals Beat Mumbai Indians By 23 Runs
Review: SRH Vs RR IPL 2022 Sanju Shine In 61 Run Win For RR
Review: 28th Match In Women's World Cup 2022 – India Women Vs Strong South Africa
Check out our latest Article about the IPL 2022 Schedule, Group, Time Table, Venue, And Match List