Dassault is an international French aircraft manufacturer of military jets and business jets. Dassault has Civil Aircraft, Military Aircraft, and Space Aircraft. Dassault was founded in 1929 by Marcel Dassault and it is the only aviation group in the world to still be owned by the founder's family and bearing his name. Dassault contributes to the development of a wide range of high-flying companies, laboratories, and educational institutions.
Indian Airforce Deal:
The deal is estimated to be worth 10.2 billion dollars. The plan includes acquiring 126 aircraft, 18 of them is in fly-away condition and the rest to be made in India at Hindustan Aeronautics facility under transfer of technology.
Civil Dassault aircraft:
The Civil Dassault aircraft are:
Mystere-Falcon 10-100
Mystere-Falcon 20-200
Falcon 2000
Falcon 30-40
Falcon 50
Falcon 900
MD 320
MD 80
Mercure
Mystere-Falcon
Mystere-Falcon 10 is an early corporate jet aircraft developed by French aircraft manufacturer Dassault Aviation. It is actually developed after Falcon 20, despite its numbering sequence. Falcon 10 is considered a scaled-down version of Falcon 20 aircraft. It is considered as a redesigned model of Falcon 20, with a non-circular fuselage, a new wing with slotted flaps, a split passenger door, and many simplified circuits.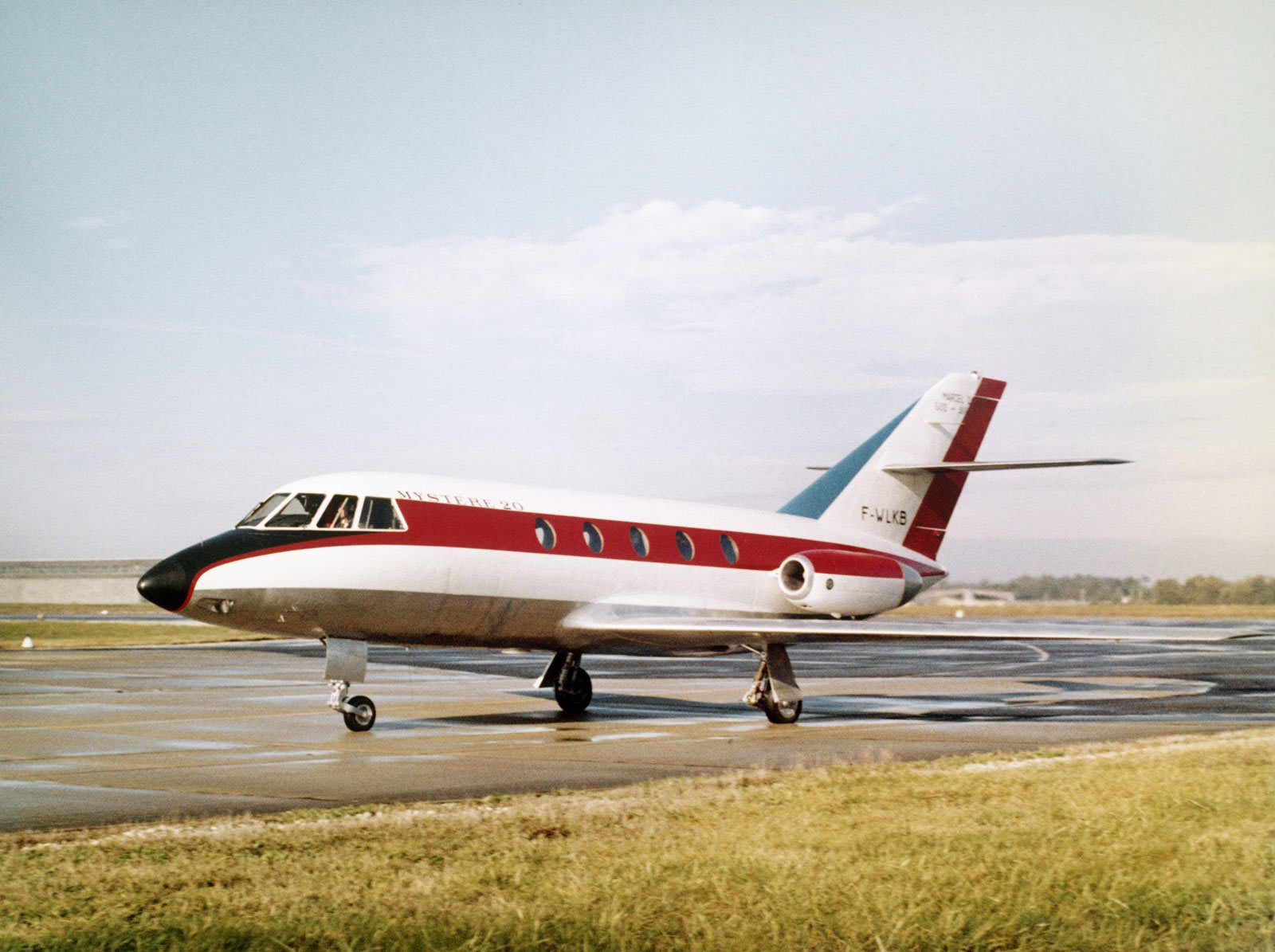 Mystere-Falcon 20 became the first business jet developed by the firm. It is the first of the family of business jets to be produced under the same name.
Falcon 2000 is a French Business jet. It is a twin-engine, slightly smaller development of the Falcon 900 trijet, with a transcontinental range.
Falcon 30, equipped with two Lycoming ALF 502D jet engines made its first flight on May 11, 1973. On the 23rd of May, it was presented at the Paris Air Show.
Falcon 50 is a long-range business jet, featuring a trijet layout with an S-duct air intake. It has the same capacity as the Falcon 20. But Falcon 50 has a new design, with an advanced wing design.
Combat planes
Dassault Falcon 900 commonly known as F900, is a French-built corporate trijet by Dassault. It had its first flight on 21st September 1984. Falcon 900 is a business jet.
MD 320 is a light twin-engined transport, its aerodynamics were derived from the Communaute and its wings from the Mystere 20.
MD 80 is a series of single-aisle airliners, which was known as DC-9.MD 80 had its first flight on October 18, 1979, and was certified on August 25, 1980. It was then introduced into commercial service on October 10, 1980.
Dassault Mercure is a twin-engined narrow-body jet airliner. According to Dassault, it was the first large-scale European cooperative civil aeronautics program. It was proposed as a French counterpart to the American Boeing 737 (Refer https://blog.crisscrosstamizh.in/what-is-boeing-known-for-what-is-boeing/)
The Military Aircrafts of Dassault are:
Alpha Jet
Atlantic
Atlantique 2
AVE
Balzac
Etendard
Falcon Guardian
MD 311-312-315 Flamant
Jaguar
MD 410 Spirale
MD 415 Communaute
MD 450 Ouragan
MD 452 Mystere II
MD 620 Jericho
Milan
Mirage 4000
Mirage 5
Mirage 50
Mirage F1
Mirage G
Mirage III
Mirage III F2 F3
Mirage III T
Mirage III V
Mirage IV
Mystere IV
Super-Etendard
Super-Mystere
Dassault's largest-ever private jet can fly up to 7,500 nautical miles and has fighter-jet tech. It has the widest cabin of any competitor.