Vanakam, Hello to all sports readers and cricket lovers. Above all, don't miss reading the blogs published on our website. Today's discussion is about Associate members of ICC(ICC Associates). What's the need to have Associate nations in ICC?. The setbacks faced by associates, and their impact on the game of cricket in general. Read more about the type of membership in ICC here.
Associate member nations in ICC
Associate Members are the sovereign bodies for cricket of a country recognized by the ICC. Also, countries related for cricket purposes, or a geographical area. Moreover, which is not qualified as a Full Member, but where cricket positively established and organized.
All Associates had qualified to play in the ICC World Cricket League. At the same time, there is also ICC T20 World Cup Qualifier events that serve as a qualification process for the ICC T20 World Cup. You can read more about International Cricket Council here.
Drawbacks of being an Associate nation in ICC
Scotland's confidence and expectations of playing in the 2019 Cricket World Cup. Whereas, Scotland is hunting 199 for victory, had washed away by rain in Harare. West Indies won the match by five runs by the DLS method. Clearly, they were on the top of game 125 for 5 from 35.2 overs, With heavy rain not allowing play. At this time, when a well-set Richie Berrington had poorly convicted LBW on 33 in the 32nd over by Ashley Nurse's bowling, the U-turn came about. Differing from, if Berrington is kept by the Decision Review System, and Scotland had lost only four wickets, they would have won the game, and had a place in the World Cup. You can read about the Full Member Nations In ICC.
No DRS, reserve days, and the associates had nothing to meet face to face. No questions had been raised about what they faced in the game, poor climatic conditions, and the quality of umpiring. ICC did not make any statement on this. Unlike, does their coverage of the World Cup qualifiers. Additionally, take a look at the history of Kenya Cricket.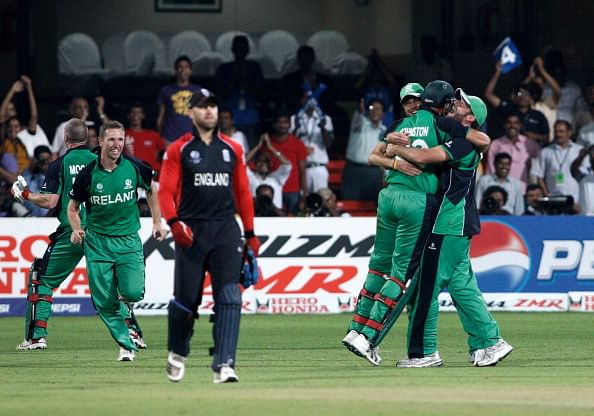 In the 2011 World Cup, Ireland played against their southern neighbor England. The match played at the M Chinnaswamy Stadium, fascinated a crowd of just a few English and Irish viewers. Above all, once Kevin O'Brien put the England assault on the blade. On the other hand, the crowds started to come in, and not an individual of the 40,000 seats at the stadium left vacant. Besides, the stadium was Houseful when Ireland took on the Indians in the following fixture at Bangalore. Additionally, you can read about my article on Test Venues In India.
Even so, the game of cricket must directly be changed. Conversely, many criticize the poor administration of the game to be the biggest problem. In addition to this, the associate nations have small or no vote in what occurs behind the walls of ICC.