Soft Infrastructure
Soft Infrastructure is a service in which all cultural and social infrastructures are included whereas in hard infrastructure it's all about physical infrastructure. Soft infrastructure includes non-physical infrastructure such as communications, government rules, and then the regulations for all systems and its financing, it's a system that was working on providing professional training, etc. It occupies the institute like the education system, financial system, healthcare system, emergency services. Soft infrastructure provides services to the people and these services should be highly developed and have lots of developed facilities and institutions.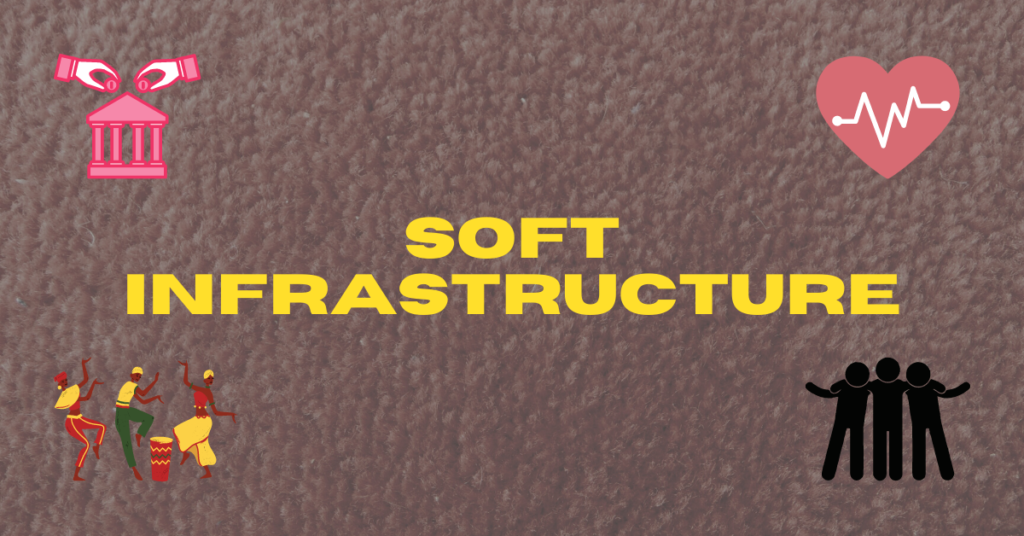 Administration
The soft infrastructure includes all political, legislative, law enforcement, and other specialized structures such as offices, prisons, etc. Emergency services like ambulances, fire protection, communications, police, etc. Military infrastructure like training camps, military bases, arms manufacturing, etc.
Infrastructure The financial system has a banking system, a financial institute, an exchange, a money supply, etc. The warehouse system, the shipping management system are also included. Other than this manufacturing industries are there which include industrial parks, special economic zones, public safety, environmental planning and laws, and government regulations. Infrastructure related to agriculture, forestry, and fishing includes the transport of food and livestock. In agriculture, the price of the agricultural goods, their inspection, and agricultural research are there. There are various laws against poaching, forest wardens, and firefighting. Are you interested to know more about Economic infrastructure you can refer to my blog?
When it comes to social infrastructure it includes health care systems like hospitals, finance-related to health care, rule and regulation for testing, and the medical system. It also includes the training, inspection, and professional discipline of doctors. Apart from this it also includes an educational system that deals with elementary and secondary school, universities, etc. there are specialized universities, research centers, etc. Social infrastructures include a social welfare system in which the government and private charity for the poor are included. To know more about the social infrastructure you can refer to researchgate.net.
Recreational, Cultural, and Sports Infrastructures
Sports and recreational infrastructure include sports facilities, all sports-related systems such as leagues and associations. In recreational infrastructure, travel and tourism are included in which man-made, as well as natural attractions, are there. The hotels, restaurants, amusement parks, and other services like attracting tourists with the information and the insurance are there. 
Improvement in Soft Infrastructure
In the field of education, the pandemic time has brought a huge change. Virtual schooling has been started for the fair future of our children; it has come with a new weapon in which all public schools have been taught by the same medium. There is also a revolution in the health care sector.
 All the hospitals in the country are moving towards digitization and privacy was also maintained. It is very important that we must provide some equal opportunities to the citizens with some of the basic facilities like sanitation, nutrition, health education, etc. If our soft infrastructure is improved then only our economic productivity will improve. Thank you bye-bye!